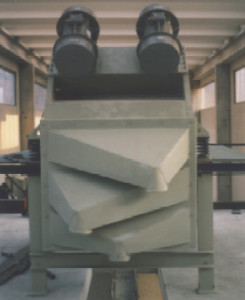 The linear motion screens are small and compact, in closed and dustproof execution, and complete with 1, 2, and 3 screening decks.
They are suitable for medium-small capacities, for cuts at 1 to 30 mm and for products with bulk density from 0.5 to 1.6 t/m³.
The linear motion screens will guarantee a careful selection.
Quick overhaul of screen and easy replacement of wire-nettings.
The operation is by two eccentric weights motors, with upward installation, which generate linear vibrations.