HIGH SPEED SCREENS "BANANA SCREENS" HSR SERIES
The high speed vibrating screens, generally known as banana screens and produced by IMEfrom the middle of '80, are the result of a development and several experiences matured after years and years of research and design on the vibrating grain sizers. Like all special screens, they are suitable for all those screening requirements which are seldom obtainable on traditional screens.
RUNNING PRINCIPLE
Can be built with one or more screening decks. Each screening deck is subdivided in 2 or 3 sections.The first section has a bigger inclination than the other, which decreases till the discharge point, that gives a profile like a banana.
OPERATION
The operation is by two counter-rotating eccentric weights motors, or eccentric weights exciters.
CAPACITY
This technical solution with a linear vibration gives to the screen many advantages, one of those is the capacity from 1.5 to 3 times higher than the one on a traditional screen and with the
same screening surface. The possibility of clogging of wire-nettings is drastically reduced.
MAINTENANCE
The machine is easy to maintenance, with a simple and quick accessibility.
EXECUTIONS
These screens are produced in both open and dusttight closed execution.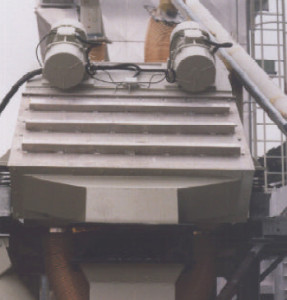 Advantages:
High production capacity
High degree of precision
Non-clogging of the selection deck
Suitable for special works in the mining segments
Electric heating of screening decks, if required
Dusttight closed execution, if required
Easy and quick maintenance