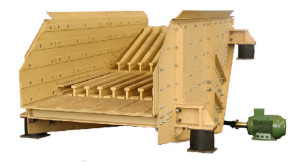 The rough screens are to be generally installed before primary crushers and are suitable for max. feed sizes from 300 to 1500 mm at the side.
Suitable for the direct feed by vibrating extractors, apron feeders, plate or chain extractors.
This screen is suitable for selections from about 70 mm onwards.
Their execution with divergent bar selection decks, along with the differentiate inclination of same, guarantee a high capacity (even with high quantities of passing materials) and a good selection without clogging.
The vibrating rough screens, because of the use they are required for, are in particularly rugged and welded execution for feed sizes up to max. 700 mm and in bolted execution for higher feed sizes.
The operation is by two or four counter-rotating eccentric weights motors or by linear exciter with separate
motor and transmission joint.