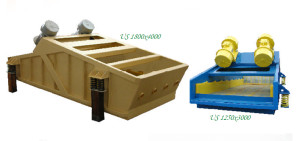 These screens are vibrating conveyors with a simplex oscillation drainage bottom, suitable for the separation of solid parts from liquids. Their installation is with upward inclination of 4-6° for the concentration of the liquid on the back side of the screen. The collecting back wall and the bottom are complete with interchangeable drainage decks in polyurethane or steel execution.
These machines are in particularly rugged execution and suitable to bear those counter reactions coming from the wet material vibration. The body is in rugged carbon steel sheet, shaped and electrowelded. The lock nuts of the drainage decks are protected against rust and wear by special polyurethane caps.
The linear vibration of the screen is generated by two counter-rotating eccentric weights motors.
Our screens are in open execution and, if required, they may be supplied with covers.
For all our vibrating machines, we recommend the use of our electric units for the operating, braking in d.c. and operation control and synchronisation of motors.